Author of the exhibition: Filip Forkapić, curator, ethnologist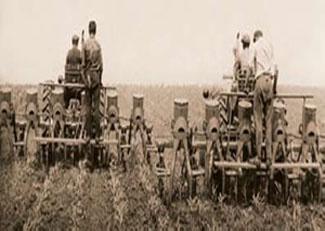 Pavilion 2 is an auxiliary facility, typical for large estates in Vojvodina, dating from the eighteenth and nineteenth centuries. In the past, this building served as a horse stable, a blacksmith's shop, a workshop and also as a carriage shed. It is unknown whether its purpose has been changing through history or not, or when it was exactly built, but it is certain that at the time when the Dundjerski family was managing the estate, the building did wear the present shape and did have the above mentioned functions. Several original items have been preserved from that period, which are now displayed at the permanent exhibition: a forge with blacksmith's bellows and lathe.
The building was refurbished in 1993, for the Exhibition of Agricultural Machinery and Tools, immediately after the Museum had moved in. The attic contains a depot, whereas the ground floor is arranged for displaying the permanent exhibition.
The display was rearranged and small construction repair works were carried out at the end of 2009 and at the beginning of 2010.
Thanks to the rapid scientific and technical development, remarkable changes have been achieved as far as agricultural tools and machinery are concerned.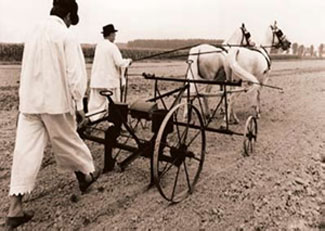 In the Pavilion, tools and machines of diverse technical characteristics, made by various producers are on display. Most of the displayed items date from the period between the two world wars, but some originate from the end of the nineteenth and beginning of the twentieth century, as well as from the period after WW II. The following groups of agricultural machines are on display:
Tools for basic and additional land cultivation (ploughs, covering tools, lining tools, cylinder, harrow);
Seed drills (for stubble wheat and hoed crops, the so called "secer");
Machines for seed cleaning and sampling (winnower, spiral and cylinder shaped sampling device);
Tools and machines for feed mixing (huskers and corn ermers, choppers, hammer mill and cutter blades for hay and straw);
Tools and machines for harvesting and picking ( harvesting machine for potatoe, fork for sugar beet harvesting, hay rake and grain ear rake used in stubble fields);
Machinery (steam locomobiles and tractors);
Transportation vehicles (horse driven cart).
These exhibits were mostly made in blacksmith's or cart shops, whereas fewer of them were made in factories. They were produced in Europe (Germany, Hungary, the Czeck Republic, England, Serbia and Croatia) or in the USA.