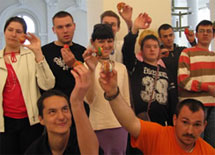 This workshop is designed for those with special needs, not enrolled in regular schools, who are 27 years of age or above (mentally under-developed, those with Down syndrom, hard of hearing, etc).
The workshop will be devided into two sessions, one being theory, when the candidates get familiar with the Museum, work at the museum and some of the exhibits, whereas the other session will be a creative program, enabling them to create things according to their abilities. This program is basically a general information about the museum, about the cultural heritage kept at the museum, along with developing interests and artistic expression.
This workshop will be announced at our website and on the media. Authors and counselors of this project are Vladimira Stanisavljević, senior curator- pedagogue and Ivana Stepanov – Tasić, curator-pedagogue.