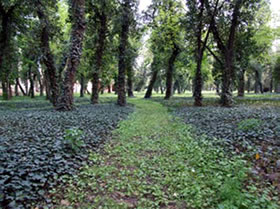 The park was designed about the same time when the mansion was built and this is obvious from the layout of the main building, the trees and the lawn. There are no documents left from which one could restore the original appearance of the park, and the name of the designer is unknown either. The designers of the garden, apparently, wanted to create a natural scenery around the mansion, usually practiced at that time. In front and behind the mansion, large grassy areas were planted to emphasize the monumental appearence of the building. The park covers an area of about 4.5 hectares.
At the time of the construction of the mansion, i.e. back in the thirties of the nineteenth century, English or landscape parks were fashionable in this region. Unlike the French style, dominant up until the mid eighteenth century, meaning strict, geometrically designed avenues of trees and paths, landscape parks were arranged with lots of side paths, lawns, similar to green pastures. When the mansion in Kulpin was built, English landscape gardens were very popular in Hungary. Dissertations were written on them and their owners competed in collecting and planting rare trees and plants. Seedlings were brought in from distant, exotic parts of the world to complete the collections. Although no precise data are known today as what sorts of trees exactly were originally planted, the park in Kulpin undoubtedly bore all the features of the age in which it was planted, including a rich collection of dendrologic plants.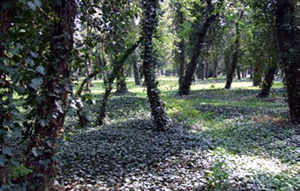 The park has undergone significant changes over the time. The greatest changes occured after the reconstruction of the mansion, in 1912. The park was partially re-faced in 1994, after the Main Horicultural Project, created by Milan Sapundžić, in 1992. This project provided some elements of the French garden style, particularly apparent in the frontal part of the large mansion. After a review, experts from the Serbian Nature Protection Institute found that the appearance of the park had changed a lot and that it needed protection. Regarding the types of trees, the park is today dominated by trees of the western Celtis Australis sort, maple and mulberry. Almost each and every dendroflora is covered with ivy giving a distinctive look to the treetops.