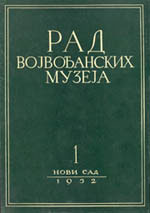 The journal "Work of Vojvodina's Museums" was started by The Vojvodina's Museum from Novi Sad in 1952 as a major and permanent imprint which publishes the results of activities of museum workers and institutions in Vojvodina as well as their scientific work. The main area of research is the cultural history of Vojvodina in the past and the present, observed from the viewpoints of related scientific disciplines.
In the preface to the first edition of the journal the overall purpose of museology and main goals for launching the journal were highlighted:
The journal should be the reflection of all our intellectual efforts and systematic work, which would in turn result in a proper understanding of our opulent past. Work of the Museum of Vojvodina is a periodical journal in which articles are published on a continuous basis, and which has a methodically-organised museum material related to archeology, history, ethnology, art history and natural sciences, in addition to papers concerning museum conservation issues of Vojvodina. Moreover, articles addressing educational problems which are met in the work of our museums will find their place in the Journal. This issues are being collected in the first place through contacts and mutual activities realized with people that organize thematic exhibitions, give lectures, etc., and whose surveys will provide support and help in teaching at schools. Finally, the problems of raising the overall level of expertise and knowledge of museum employees (scientific as well as administrative staff) will also be addressed through the organization of specialised courses, seminars and the like.