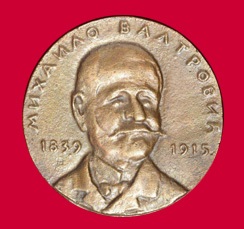 "Mihailo Valtrović" award regularly goes to museum officials and institutions for their special contribution to the development and enhancement of museum related work as well as for remarkable results in this field. This award is assigned by the Serbian Museum Society and the National Committee of the International Council of Museums – ICOM Serbia.
Up until now, the Museum of Vojvodina has received four "Mihailo Valtrović" awards:
For the two best exhibitions in Serbia in 2005, this award went to Katarina Radisavljević, M.A. senior curator-ethnologist, the author of the exhibition "Festive Female Headwear", along with the authors of the exhibition "Josif Rajačić Patriarch", Suzana Milovanović, senior curator–hisorian and Aleksandar Petijević, senior curator-ethnologist.
For the best exhibition in Serbia in the year 2007, two authors were awarded for the exhibition with the title "Meeting the Urban Population of Vojvodina", Ljubica Otić, senior curator-historian and Tatjana Spasojević-Popović, curator-art historian.
The Best Museum Award, in 2009.
For Lifetime Achievement in 2015, this award was received Idvorean Bratislava – Stefanović, museum consultant.